Rehoboth Ranch
Rehoboth Ranch is a second-generation business owned and
operated by the Hutchins family in Greenville, Texas.
Deriving its name from Genesis 26:22, Rehoboth Ranch aims to steward the land and animals in a manner consistent with their created design so as to produce an optimally nutritious, delicious, humanely raised product.
On organically managed pastures, Rehoboth produces 100% grassfed
beef and lamb, and pastured pork, and poultry. 
Transparency is everything and we believe firmly that the
best customer is an informed customer and you have to be able to trust your
farmer and truly KNOW where your food comes from.   
Rehoboth products are all 100% GMO free.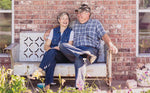 Windy Meadows Family Farm
It all started in 2001 as a family just wanting to enjoy eating chicken again, thus launching us on a journey to grow our own.  Today we raise 90,000 chickens a year for Restaurants, food connoisseurs, and individuals seeking better health thru food. 

Our goal is to bring you the highest quality pastured chicken available.  We do not use antibiotics, hunger stimulants, or growth hormones.  Our chicken is raised in the environment that God intended.  Grass, bugs and sunshine are an important part of any chickens life.  We also feed an all Natural, Non-GMO, Soy and Corn Free feed.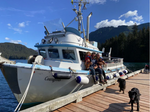 Smart Source Seafood
Each summer, we harvest sockeye salmon in Bristol Bay, Alaska aboard our 32-foot gillnetter, the F/V Courageous. The rest of the year, we live on a small homestead in
Homer, Alaska. We have 3 kids, Iris, Owen, and Eva, 2 dogs, 2 crazy geese, and
too many ducks and chickens to count.
We take great pride in our catch- each fish is hand-picked, bled, and iced immediately. We're honored to bring you delicious, dependable wild Alaska seafood direct from our fishing family, and hope you love our salmon as much as we do.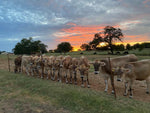 Sandy Creek Dairy FArm
Howdy! We are Sandy Creek Farm!! We sell All Swiss Grade A Raw milk. We have been selling raw milk for about 15 years now but the farm has been in the family since 1913!

We use all Brown Swiss cows with the A2 protein to yield the most nutrient rich milk you'll find. We care more about the cow's overall health than how much milk they can produce in a day. When the cow feels at rest and taken care of, the proof is in the milk.
You can be assured of the purity and quality of our milk. Cattle are pasture fed year round.
No Drugs, steroids or hormones. Our family trusts in our milk and you will also. Our customers are welcome to visit the facility to watch the process and ask any questions.
Full Quiver Farms
Over twenty years ago, Michael and Debbie Sams pulled into the property now known as Full Quiver Farms. Michael and Debbie saw potential in the empty 64 acre lot in the small community of Styx, Texas.

Over the years, our operation has seen many changes. The biggest one took place in 2002 when we took the leap of faith and cut ties with the commercial dairy industry; going all in on cheesemaking. Little did we know that this risky, crazy move turned out to be the greatest decision we could have made and would ultimately save the farm, as milk prices continued to decline.

The legacy lives on at Full Quiver as the second generation takes over. Mike and Debbie's son, Josh recently purchased the business, allowing them a comfortable retirement. Josh and his wife Shauni now take on the huge responsibly of running the farm.
Our cow herd is made up of mostly Jerseys with a few Holsteins mixed in. We use intensive grazing on all pastures on the farm. In winter months they get a grass silage from our own fields, mixed with a non gmo grain. We also include Fertrell Minerals to create a perfect ration.

Prairie farmstead
At Prairie Farmstead, the goal is to provide the cleanest, most nutrient-dense food for their family and community. They believe that the healthiest animals are raised outdoors on healthy pastures with a variety of forages, on thriving soils full of life. Using regenerative farming methods, they strive to heal the land they steward and improve soil health. The aim of Prairie Farmstead is to implement farming practices that protect and care for their soils. Join them in their mission to make the land better while enjoying delicious and healthy food.