Interested in being a part of rock?
We foster a community deeply rooted in holistic and naturopathic principles. Our mission is to provide our customers with products that are not only organic and sustainably produced, but also contribute positively to their overall well-being.
We are constantly in search of vendors and farmers who resonate with our ethos and are keen on contributing to the ROCK Farmhouse community.
To maintain the integrity and trust we've built with our customers, it's imperative that our partners adhere to certain standards.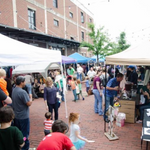 For Vendors
Locally Made: Products should be crafted locally,
promoting the essence of community and sustainability.
Organic and Sustainable Practices: Utilize organic
ingredients and sustainable practices in the creation of your products.
Ethical Production: Your products should be locally made, organic, ethically crafted, and contain clean, non-harmful ingredients with no questionable substances.
Before reaching out to us, please ensure your products conform to our standards and resonate with the holistic and naturopathic values of our community.
When contacting us, please provide a complete list of ingredients, along with wholesale and retail pricing.
For Farmers
Locally Grown: Produce and livestock should be
locally grown, adhering to sustainable, and ethical farming practices.
Organic Farming Practices: Embrace organic/regenerative
farming practices that are free from synthetic pesticides, herbicides, and
genetically modified organisms.
Feed: Any feed used should be organic, non-GMO, and
preferably soy and corn-free.
Pasture Raised Eggs: For egg producers, we highly
value the use of mobile coops to ensure a natural and healthy environment for
the hens.
Ethical Animal Husbandry: Animals should be treated
humanely, provided with natural diets, and ample space to thrive.
We are excited to collaborate with like-minded individuals dedicated to promoting a healthier and more sustainable lifestyle.